Please welcome Monica from Homestead Love! She happens to be my sister-in-law and a dear sweet friend.
Im guest blogging over at her place so check that out too!!
I'm super excited to be guest blogging today! I featured Laura's beautiful baby blues on my blog last Tuesday so if you haven't checked it out, do so ASAP because she looks absolutely GORGEOUS!
Laura recently requested a DIY makeup brush cleanser so I thought I'd put it to the test via Pinterest! Ironically, I hardly clean my brushes (bad habit, I know) but I figured if I made the cleanser myself, it would give them more incentive to clean them more often. I found a recipe I liked, partly because I already had all of the ingredients readily available and partly because it just sounded like it would work. Good enough reasons right?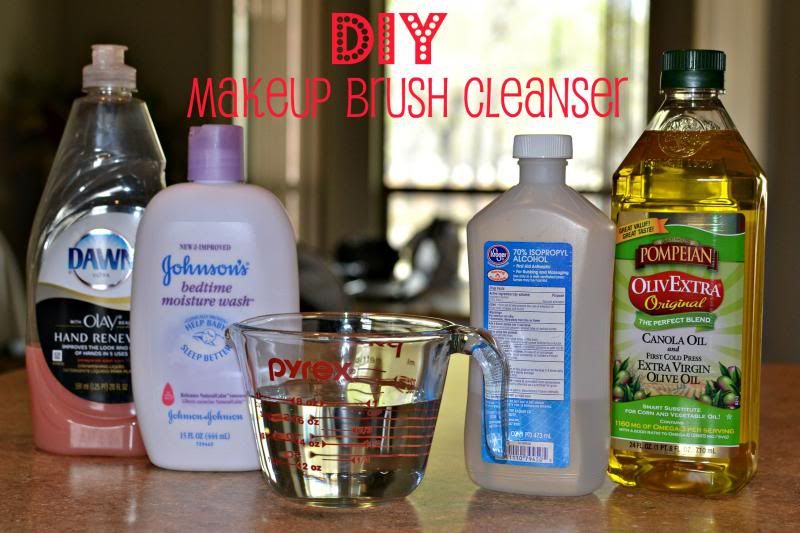 INGREDIENTS:
Water – 1 cup
70% Isopropyl Alcohol – 1/4 cup (50% isopropyl alcohol is fine too)
Baby Shampoo – 1/2 tbsp (regular shampoo can also be used)
Dish Washing Soap – 1/2 tbsp (I used Dove dish washing soap)
Olive Oil – 1/2 tsp (I used EVOO but either is fine)
Step 1:
Mix water with alcohol, shampoo and dish washing soap and stir until it's all mixed together.
Step 2:
Pour in olive oil and then mix all ingredients together. Obviously, the oil and water mixture will separate but that's why it's important to shake well before each use! Find a container to store your cleanser in (I'd recommend a small spray bottle or empty water bottle. I used an empty water bottle). Then pour your cleanser into the container and shake well.
Step 3:
Pour your mixture into a small bowl and take 2 or 3 small brushes, or just 1 big brush, and swirl them around in the mixture until the brush is thoroughly clean. I had a lot of brushes to clean so I used 2 or 3 at a time. You'll begin to see the mixture change colors and that's when you know your brushes are becoming clean! Look at all that gunky junk…yuck!
Step 4:
Lay clean brushes out on a paper plate and then rinse them in lukewarm water until the water runs clear. Once they are all rinsed out, lay them out flat on a towel to dry for 24 hours or until dry.
Don't forget to check out more at the blog HERE including makeup tutorials, tips and tricks!
You can also stalk us, I mean follow along with us, via Pinterest, Facebook and Instagram 😉